Our greatest asset at Pendo is our people.
Todd Olson, CEO and co-founder
See open roles
Are you ready to go fast?
Every Pendozer contributes to our culture—and our success. If you're looking for interesting problems to solve alongside an ambitious and caring group of colleagues, we'd love to chat. We believe people with diverse backgrounds and experiences serve our customers best, which is why we're committed to building teams that represent the communities in which we operate.
What to expect in your interview
While our interview process differs from role to role, we work hard to make sure each candidate feels prepared and set up for success. We see interviewing as a two-way street. While the process can be rigorous, we have a team of recruiters ready to help. Our goal is to give you a glimpse into what it's like to be a Pendozer, and help you learn about us while we learn more about you.
Core values
Our values guide everything we do at Pendo.
Respect our lives outside of work
We bring our whole selves to work and celebrate what makes each other unique.
Be direct & transparent
As individuals we are timely, candid, and respectful in providing feedback—even when it's hard to do so.
Maniacal focus on the customer
If there's an opportunity to improve the customer experience, we do it.
Bias to act
We take initiative to get things done, collaborate, and go above and beyond the call of duty.

Show me the data
No matter what the decision, data should be the primary input for decision making.

Act like owners
We use good judgement in our actions and decisions, and implicitly have the trust from our colleagues to be able to do so.
Win together
We succeed together and challenge each other to grow. We collaborate and support one another as a team.
Diversity and inclusion at Pendo
Pendo's mission is to elevate the world's experiences with software. We need people of all backgrounds and from all lived experiences on our team to support this pursuit. That's why we prioritize diversity and inclusion in our hiring efforts, our talent development, our culture, and our engagement with the community.
We're hiring
Are you eager to work in an inclusive environment? Apply for one of our open positions.
See open roles
Happier workdays
Add a little fun to your work day with Pendo board game night, team karaoke, ping pong, weekly catered lunch, or a local brew on our rooftop deck.
Health and wellness benefits
Generous health and wellness plans designed to meet the needs of you and your family, including medical, dental, vision, and mental health benefits.
Paid parental leave
Up to 16 weeks of paid parental leave, and a flexible schedule upon your return to help you make the most of those special moments.
Learning and development
In-house management development classes, guest speaker lunch and learns, and select conferences help keep talent sharp.
Flexible work hours and PTO
Enjoy the benefits of a flexible time off policy, flexible work hours, and paid parental leave.
Global offices
Work across the globe in the cities that we love: Raleigh, San Francisco, New York, Herzliya, Tokyo, Sydney, London, and Sheffield.
I love the energy and passion that surround me on a daily basis; both inside and outside of Engineering. Having the autonomy to solve complex problems is challenging, fulfilling and truly what makes me stand behind our product and our brand. Natalie Chalco, Software Engineer
Recent awards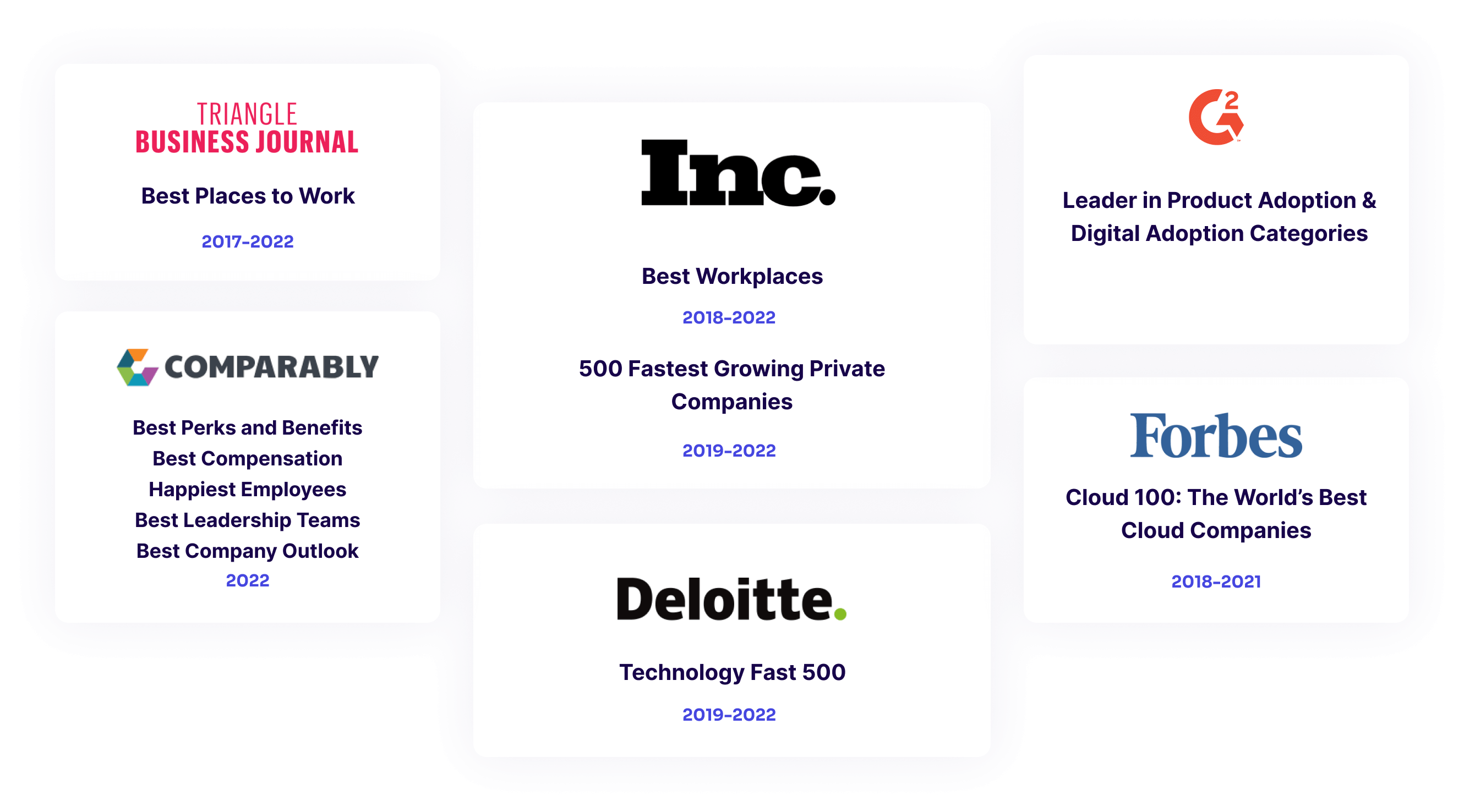 We love where we work
Pendo operates in some of the most exciting technology hubs in the world.