Pendo Roadmaps
Communicate your product priorities
Align internal stakeholders and bring data into product planning.
Take me on a tour
Bring stakeholders on the journey
Create alignment
Share the "why" behind your roadmaps to keep teams aligned and motivated.
Prove value
Validate and visualize the impact of every feature and initiative on your roadmap.
Adjust easily
Modify your roadmap as you learn from the data or as your priorities change.
Improve visibility and align your teams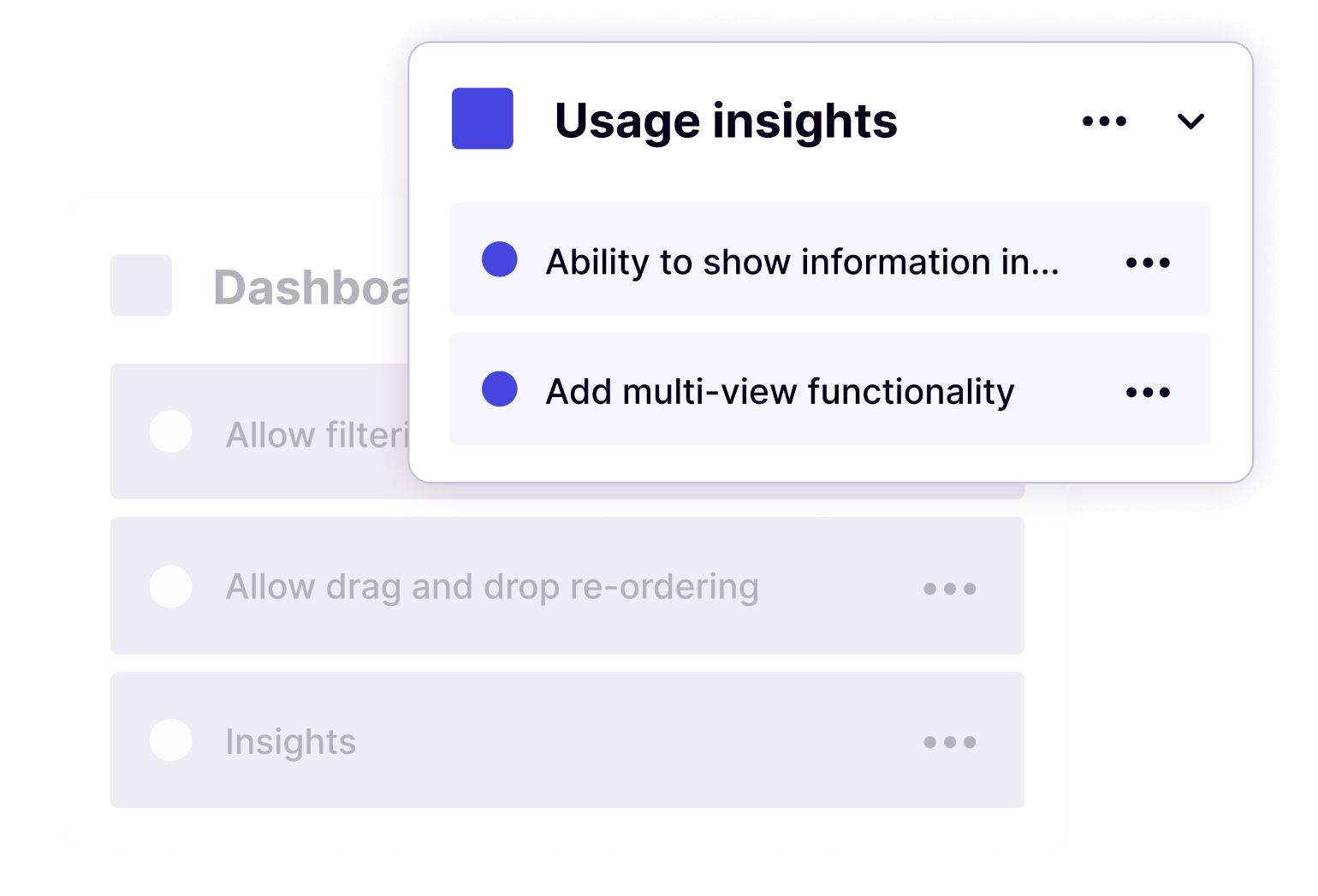 Build a product backlog
Create initiatives and features, then link specific customer feedback requests to them.
Maintain control
Build private and team roadmaps to communicate the right information, at the right time.
Prove business impact
Show total votes and dollar values associated with initiatives or features on your roadmap.
Make updates in real time
Easily drag and drop—and link feedback or requests to—items on your roadmap.
We have greatly improved the transparency and efficiency of our roadmap in no time at all. Rich Hopewell, Director of Client Success

[With Roadmaps], there's a very open communication line. It helps our customers feel secure in their decision—like they're getting some support moving forward. They feel like it is a long-term partnership, which is absolutely how we want them to feel. Mary Lyon, Director of Product Feedback
Want to see for yourself?
Schedule a custom demo and have an expert show you how Pendo works.
Book my demo
Not ready to talk to sales? Explore the product on your own with a self-guided tour.
Explore Pendo
Frequently asked questions
All customers who started using Pendo Feedback after July 2022 will automatically be given access to the new version of Pendo Roadmaps. If you are still using the legacy version (click here to find out if you are), email [email protected].
We produce a wealth of blog content and thought leadership on this topic, and frequently host webinars to help you build more impactful roadmaps. Take a look at some of these resources here.
Not right now. Currently, any roadmaps created in Pendo Roadmaps are private or only visible to your internal teams. We plan on adding the option for you to share your roadmaps externally or with customers soon.
See for yourself
Get going with Pendo and see what we can do for your organization.
Schedule my demo
Solutions for every size
Customized, straightforward plans means you'll find the perfect Pendo for you.
See pricing
Try for free
Install our free version of Pendo with no strings attached.
Get set up today