Pendo session replay
See the behavior behind your product data
Understand why users do what they do through video playbacks of their actions.
A deeper look at user behavior
Visual proof
Gain context on the customer experience and influence internal teams.
Unlimited replays
Never miss a critical user interaction or insight.
Powered by Pendo
One home for all your user intelligence — quant, qual and visual data.
User behavior data, in context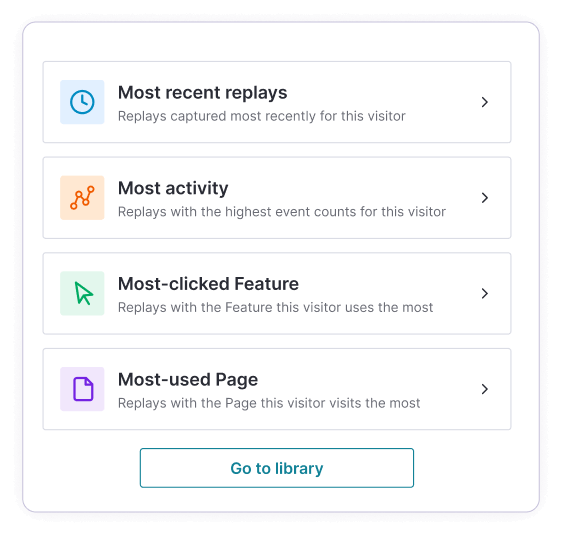 Filter by quant and qual data
Find replays by account, segments, apps, guides, pages, features, and more.
Access anywhere on Pendo
Built directly into the platform so you can instantly see the behavior behind the data.
Put customer privacy first
We offer three out-of-the-box, no-code settings that are fully customizable to your needs.
View replays by guide data
See the why behind your guide performance with guide-based replay filters.
Our platform doesn't look like Instagram—we make software for clinical trials. It is complex for very complex work. But we can still help users do things more efficiently and to rethink how we design our applications. Session Replay gives us really good opportunities to ask questions about our own software—it's not what the user did wrong, but what can we do better? I'm excited to use this product to help us make better, smarter decisions about our applications. Jonathon Wilson, Senior R&D Software Systems Analyst

When I look at replays, I see more than just numbers; Session Replay offers profound insights into how users uniquely interact with our product. It's eye-opening and mind-blowing to realize how Session Replay reveals these intricate user behaviors and patterns that we might not have anticipated. Product Training Specialist, Ad Tech company
Want to see for yourself?
Schedule a custom demo and have an expert show you how Pendo Session Replay works.
Book my demo
Frequently asked questions
Video playbacks of in-app user behavior. Captures user events such as clicks, cursor movements, scrolling, and more.
If you have the Pendo snippet installed on your app, you can get started with Session Replay right away.
With Session Replay on Pendo, you get one home for user behavior intelligence. See the behavior that's driving the data, from launches to product discovery. Better understand your quant and qual data by watching what users do within the context of your app. Gain an even deeper understanding of customers by experiencing exactly what they experience. Then, leverage that evidence to confidently align teams around your solution. See an example of how that works here, in our self-guided tour of Session Replay.
See for yourself
Get going with Pendo and see what we can do for your organization.
Schedule my demo
Solutions for every size
Customized, straightforward plans means you'll find the perfect Pendo for you.
See pricing
Try for free
Install our free version of Pendo with no strings attached.
Get set up today