Pendo Analytics
Use product data to drive better decision-making
Learn everything about your customers so you can improve everything about their digital experiences.
Take me on a tour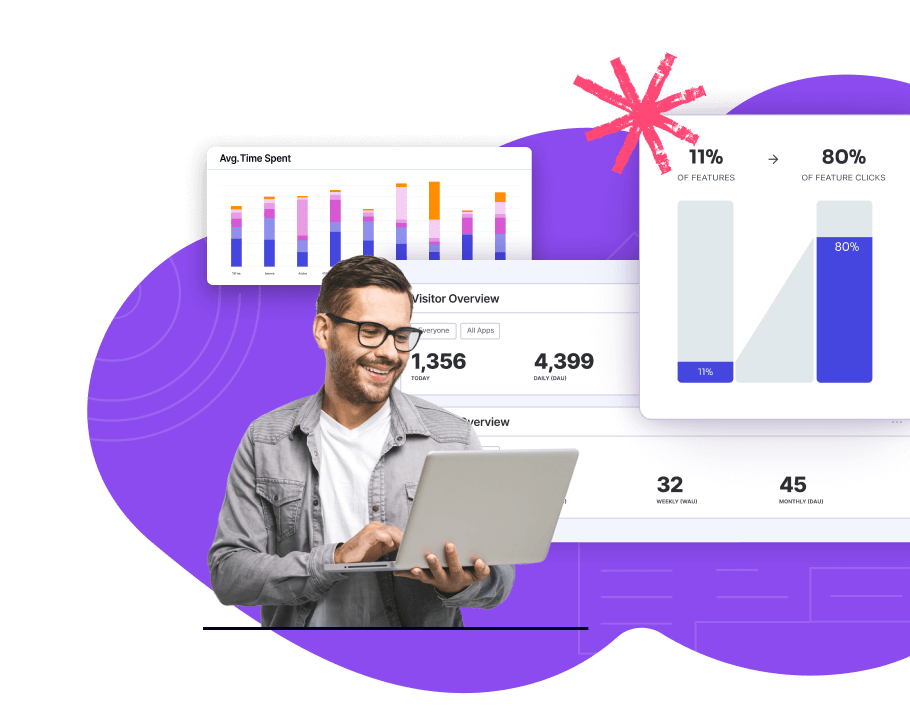 Go from guessing to knowing
Get going, fast
Start collecting app and user data with little to no engineering effort.
Start yesterday
Learn from the past with retroactive analytics.
Act on insights
Make better, data-informed decisions that improve product adoption.
Get closer to your customers with product analytics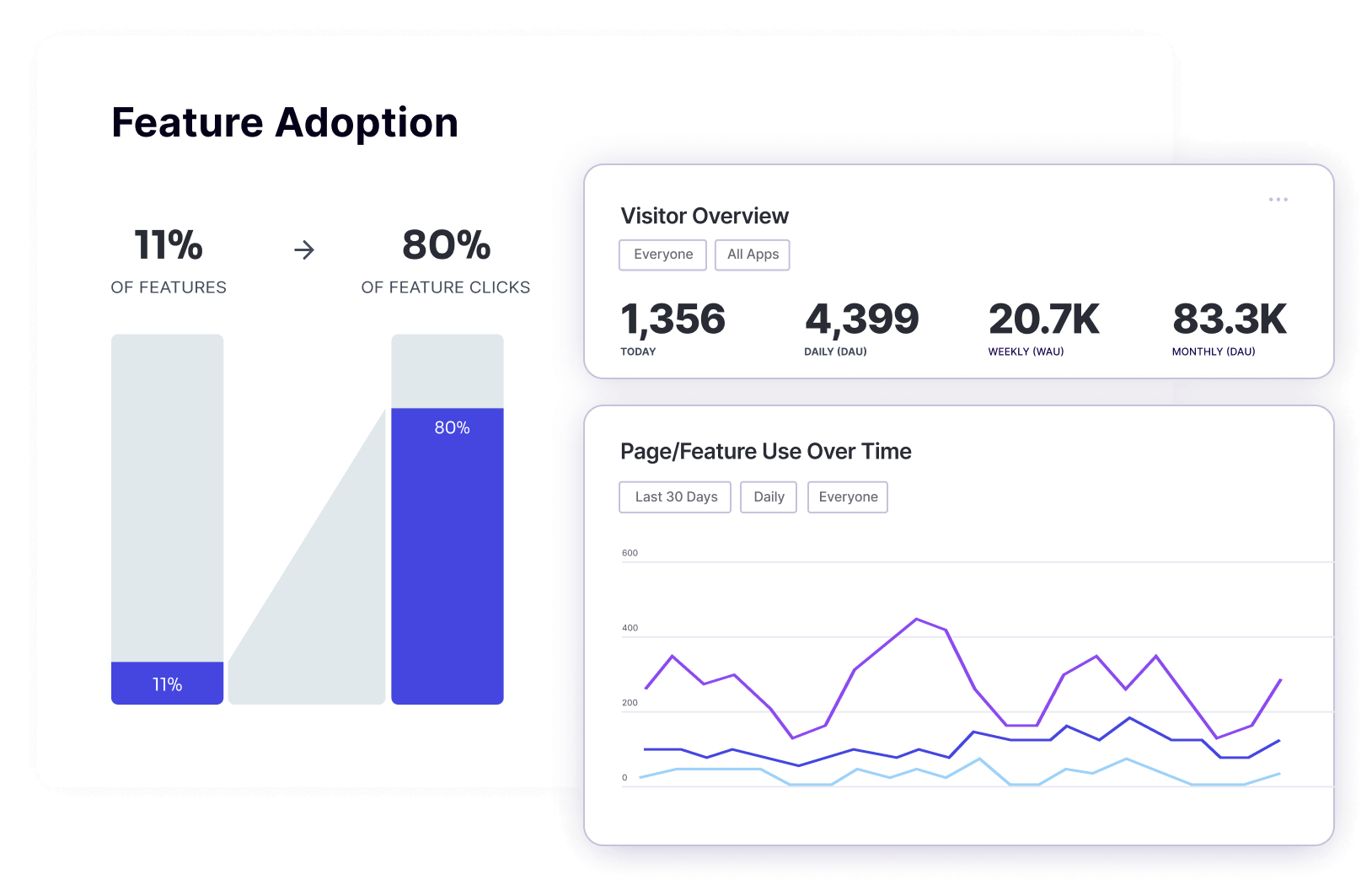 Evaluate product usage
Know how your software is really used—and which features deliver the most value.
Visualize user paths
See where users get stuck or drop off so you can improve the journey for everyone.
Uncover how your users feel
Connect the dots between your users' product experience, sentiment, and satisfaction.
Integrate your data
Combine insights from Pendo, your CRM, and 3rd party integrations so you can leverage product usage data across your company.
Pendo has been a huge win for us in this time when every dollar counts and efficiency is super important. It's made collaboration more grounded in tangible objectives and results, and it provides metrics that define what 'better' really means. Gustaf Jungnelius, Senior Manager of Product Operations and Performance

We equate Pendo'ing with driving business decisions. We no longer have to rely on gut instinct, and we can use Pendo data to answer a lot of key questions about our users. Chad Parker, Manager of Product Ownership

Pendo is our platform for measuring, end-to-end, feature and service adoption and helping bolster each of those numbers with in-app guides or retargeting tactics. Tom Witczak, Director of Digital Experience
Want to see for yourself?
Schedule a custom demo and have an expert show you how Pendo works.
Book my demo
Frequently asked questions
Pendo Analytics is a product analytics tool that helps you gain powerful product data and insights into how users move through your web and mobile applications. Easy to learn and use, with no specialized skills required, Pendo's product analytics capabilities help you answer your most important product questions.
Pendo Process Analytics help you gain powerful application and behavioral data to make your business operations more effective. Easy to learn and use, with no specialized skills required, Pendo's process analytics capabilities help you ask and answer your most important business effectiveness, transformation and compliance questions."
Installing Pendo is both easy and fast. You'll need to install "the snippet," a short JavaScript function that retrieves and loads the Pendo agent code (pendo.js), so that you can begin tracking usage, collecting feedback, and delivering messages and guides. Check out our developer's guide to installing the Pendo snippet.
If you're using Adopt, you'll need to work with your IT team to deploy the Pendo Launcher browser extension to your employees. Learn more about setting up Pendo Analytics for Adopt here. Once you do that, it's simple to add any web-based application—whether you built or bought it—to your Pendo Adopt Portfolio View. In addition, with our Okta Connector, you can bring in metadata that will enhance the behavioral data being collected, enabling you to start gathering real operational insights.
Pendo is an end-to-end product experience platform that helps product teams build better software—across web and mobile. The platform consists of product and process analytics to understand how users or employees behave and feel, in-app guides to deliver messages or announcements that influence how users move through your app, feedback to keep a pulse on user sentiment and requests, and roadmapping to plan and prioritize your product initiatives.
The Pendo platform works best when all of these tools are used together. For example, the power of having both analytics and in-app guides means you can:
Create a segment of users or employees who have low product usage or adoption and send in-app messages to guide them to greater usage 

Deliver guides—and analyze their performance—to understand how to create better in-app guidance that impacts behavior (e.g. through more interactive content with video, better copy, etc.) or accelerates productivity 
To learn more about how you can use product or process analytics and in-app guides together, read these posts on 5 ways to make your in-app onboarding more data-driven and 3 elements of a successful product or feature launch.
Pendo Analytics includes several key functions:
Data Explorer

: A powerful and easy product analytics tool that helps you access, explore, and analyze product data and unlock deep insights

Paths and Funnels

: Reveal how users move across multiple applications in web and mobile to discover moments of delight and friction

Retention: Understand and measure the growth of your products by analyzing how often first-time users return to your product
Product Engagement Score (PES): A single, quantitative metric that measures overall product engagement by combining three components—Adoption, Stickiness, and Growth
To get an idea of the types of insights Pendo can help you uncover, here are 10 questions you can answer with Pendo data.
Google Analytics is designed around analyzing public-facing marketing and transactional websites. Pendo is focused on the behavior of users within applications and combines behavioral analytics with user feedback and personalized in-app messaging. As a result, both solutions often coexist in a single business.
Leveraging key analytics functionality in Pendo Adopt, such as Paths and Workflows, Portfolio View, and License Utilization, you can measure and improve on a number of KPIs for your organization. Learn all about the 10 KPIs we recommend tracking to accelerate your digital adoption efforts, drive operational efficiency, and help you mature your digital workplace.
See for yourself
Get going with Pendo and see what we can do for your organization.
Schedule my demo
Solutions for every size
Customized, straightforward plans means you'll find the perfect Pendo for you.
See pricing
Try for free
Install our free version of Pendo with no strings attached.
Get set up today