Great product teams deliver applications their users love.
---
Apps that make each and every user feel like they have a super power. And while it's easy to say what great product teams are capable of, actually doing it is a whole other matter. Knowing what to build, when, for who, in what order, how to make sure they use it, and how to communicate your plans, in the way that will deliver the most impact—well, it's a lot. And getting it wrong is no small issue. 
About 80% of software products are rarely or never used. That's a staggering $29.5B of wasted R&D spend each year. 
A not-so-secret weapon on this journey is the voice of the customer. If you listen to users, they'll help you know what to build. But collecting, mining, and taking action based on that feedback has always been a major challenge for product teams. It feels like navigating a maze, full of dead ends, false positives, and endless meetings. At the same time, the school of thought around how to best utilize customer feedback is changing fast. Moving towards continuous discovery. 
That's why we created Pendo Discover. Announced at this year's Pendomonium, Discover contains features that help teams build a continuous discovery process. Discover helps you truly use the insights generated from feedback to prioritize work with confidence, consistently, and at a massive scale.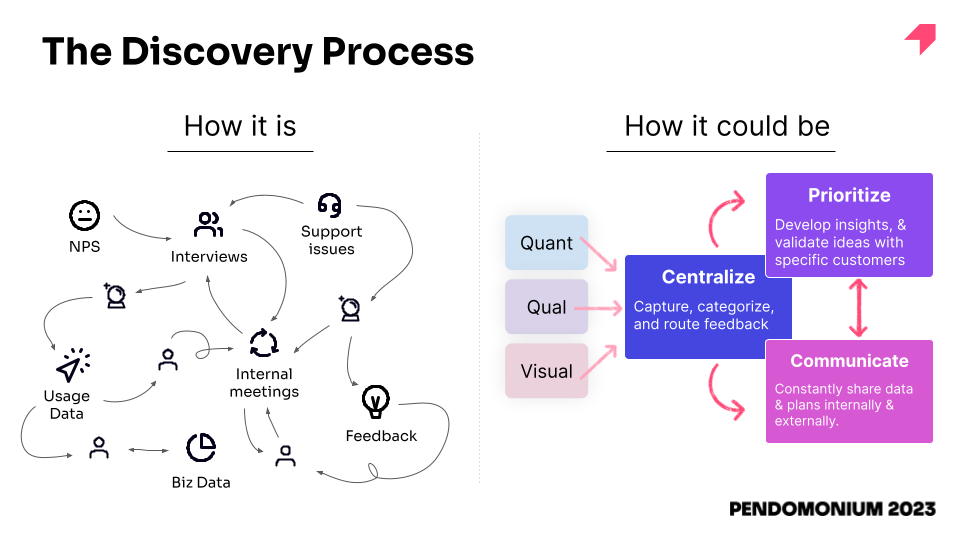 So much more than Feedback 
For years, Pendo has provided product builders tools for collecting and organizing the voice of the customer—most notably through our Feedback product. These solutions gave our users a powerful way to capture and listen to the voice of the customer. But we always knew our customers needed more of a system to really make this motion work. The addition of Validate to our platform created an opportunity for us to rethink how Feedback works, and create something totally new that would jump our customers forward. So, we rethought the offering from first principles.
Introducing Discover: One product family, three powerful features
Pendo Discover is a new family of products, all aimed at helping you implement a continuous discovery process. The tools are designed to work together, leveraging the Pendo platform. The result? You get more signal out of all your customer feedback, with less work. 
Discover takes Feedback to the next level. Along with new products, the tools are enhanced in other meaningful ways. 
Discover is built to power continuous discovery.

Discover was designed to meet new industry best practices, including the theory outlined in

Teresa Torres' book,

Continuous Discovery Habits

.

  

Discover works with mobile.

Now, feedback can be submitted from native mobile apps. 

Discover is deeply integrated into the Pendo platform.

All the tools connect in new ways—including segments, accounts, metadata, and more. This allows you to slice and dice your data as part of your discovery process.
What's inside:
Signals. Signals is where you gather and categorize the voice of the customer and other contextual data. This might include customer requests, NPS, usage data, replays, and more. You'll use Signals to categorize and analyze this data. Embedded AI will learn to sort your feedback for you, and help you find trends. 
Validate. Once you have an idea of the problems your customers face (and potential solutions to solve them), Validate helps you know what to build—and why. You'll use it to prioritize and justify product investments by collecting in-app feedback from specific customers who rank the options you present to them. 
Roadmaps. Roadmaps is where you align key stakeholders around the prioritized sequence of initiatives to deliver against the product vision and strategy. It's a simple tool to help you organize plans and communicate them visually, with embedded evidence to internal teams like eEngineering and leadership. 
How you'll use Discover 
Discover enables a modern discovery process, helping you centralize feedback, prioritize it, and then communicate updates at scale. Using Discover's distinct features—Signals, Validate, and Roadmaps—users float between tools as they centralize and analyze feedback, validate potential solutions, then communicate those solutions internally and with customers. 
Centralize: Discover brings all your Pendo data together in one place, combined with CRM data. You'll have quantitative user behavior data, qualitative customer feedback, and visual session replay data in a single view where you can categorize and route it to the right person, with the help of AI. 
Prioritize

: Once you have the right information, Discover helps you turn that data into meaningful insights. You'll gather evidence to support your hypothesis, validate ideas with users, and put it all together into powerful stories.   

Communicate:

Discover is built to enable constant sharing and communication. Share evidence as you go with engineering, keep stakeholders updated on requests, build easy-to-share roadmaps, and launch betas to customers.

 
Join the Discover interest list
We are excited for what Discover can mean for you but we need your help to get it right. If you think Discover is for you and want to get involved as a beta partner, please join the Discover interest list. The tools are currently in development. We anticipate a wider release of Discover this winter.