A better way to reach users
In healthcare, small disruptions to a patient's experience or a provider's schedule can have a large impact. CarePort Health (part of WellSky) aims to minimize disruption in the care transition space with their end-to-end platform for managing electronic health record (EHR) data.
As a director of product operations at CarePort, Sunny Herguth is specifically focused on supporting the product management team with operational needs, client and internal communication, release management, and more. And they've been able to leverage Pendo to bolster these initiatives.
With Pendo, Herguth and team can not only better communicate with users while they're in the application—they can also collect feedback about the features they use day in and day out. "Our core users are very, very busy and we don't get a lot of face time with customers," she noted. "Pendo has been huge in helping us get important information to users and get their input to inform development work."
One area in which CarePort  utilized Pendo is in conjunction with their monthly user groups. Herguth explained, "We knew that by just having the user group [meet] on the second Thursday of the month at a set time, we weren't going to reach a significant number of users. We have users in multiple time zones and they're in a busy hospital or post-acute setting." So, the team decided to record the monthly sessions and house them in their Pendo Resource Center in order to reach and collect feedback from a wider audience.
Although this strategy did result in a slight increase in the number of users providing feedback, Herguth and team felt like they were only hearing from the most vocal customers. "We wanted to hear from the people who were truly struggling [in the application], and learn how we could make their lives easier. We just weren't getting this information, so we had to come up with a way to make it easier."
(Feedback) timing is everything
CarePort needed to increase engagement from users (in the form of feedback submissions) while still catering to their unique needs when it came to flexibility. "Our biggest challenge was that we can never interrupt patient care, so we can't force people to watch or listen or answer a question," she noted. "We really had to be mindful of giving [users] the opportunity to come back on their own time, and make it as easy as possible for them to submit feedback."
Instead of just adding user group recordings to the Resource Center, Herguth and team decided to incorporate the questions asked throughout the live session—questions about the placement of something in the product, changes to workflows, etc. They used in-app guides to deliver each question prompt to viewers, ensuring they appeared at the right moments in the recording.
Herguth explained, "We broke the user group recording into segments in the Resource Center, asked the questions that were asked in the live session, and gave users the ability to respond through a poll." This way, CarePort could not only deliver the user group content to more customers, but also collect more feedback on an ongoing basis.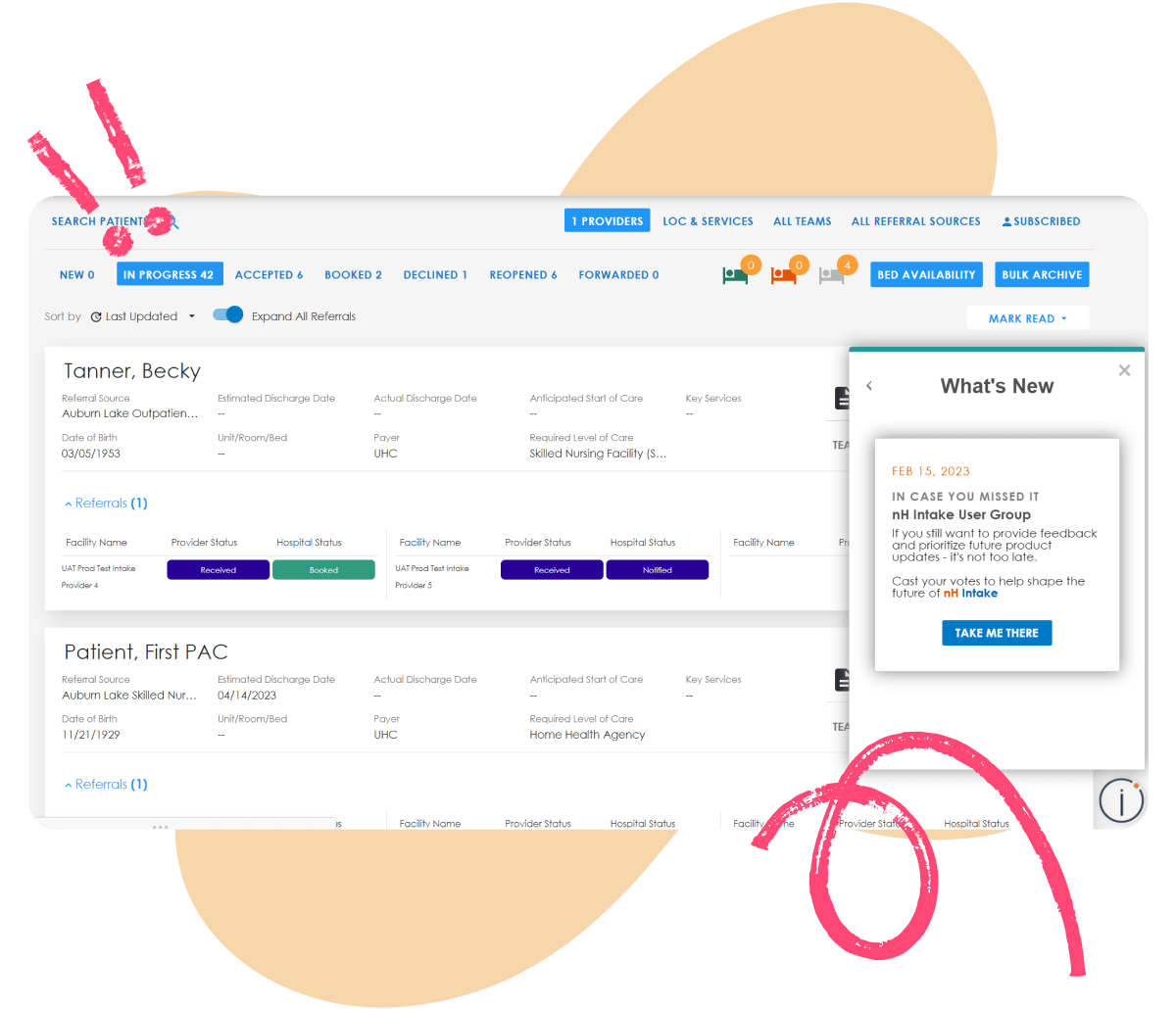 Leveraging the Resource Center and Pendo In-app Guides in this way proved effective for the CarePort team right off the bat. "In the first month we did this, we had 150 users respond to the feedback polls in addition to the 25 users who responded during the live session," Herguth said. "So we had input from 175 users to inform our product development, which was more than we ever had before."
After doing this for several months, CarePort has also seen a decrease in support calls as a result of building features and functionality that are more in line with what users want and need. Herguth explained, "Now we're able to say [to users], 'This is what we decided, this is the problem we're solving, and here's how we came to this solution.' And even if users didn't participate in the user group or polling, they still feel like they understand how we're coming to a product decision."
This increase in feedback from users has also helped the CarePort team identify small tweaks that can make a big impact on users' experience. Herguth added, "In the end, our product team's goal is getting patients transitioned to the next level of care as quickly and efficiently as possible. Any extra clicks or small moments of friction in the product just takes time away from care providers."
Perhaps most transformative, though, was Herguth and the wider team's ability to instill this customer-first mindset across the organization in the wake of the project. "I think it's brought our teams together because now people will proactively suggest something like, 'Can we put out a Pendo poll to see who's dealing with this problem?' And that helps the product team determine which direction to take the product," Herguth explained. 
"Now that more teams are using [Pendo], I swear people think that Pendo could go and grab them a coffee because no matter what problem we face, someone always says, 'Can Pendo help us with that?'"