Pendo Feedback
Know what customers need
Capture and analyze customer feedback at scale.
Schedule a demo
Deliver what customers really want
Centralize feedback
Easily capture product feedback and requests from customers, in-app.
Prioritize your efforts
Know you're addressing the most critical features first.
Improve transparency
Keep stakeholders aligned and excited about what you're working on next.
Get meaningful insights from feedback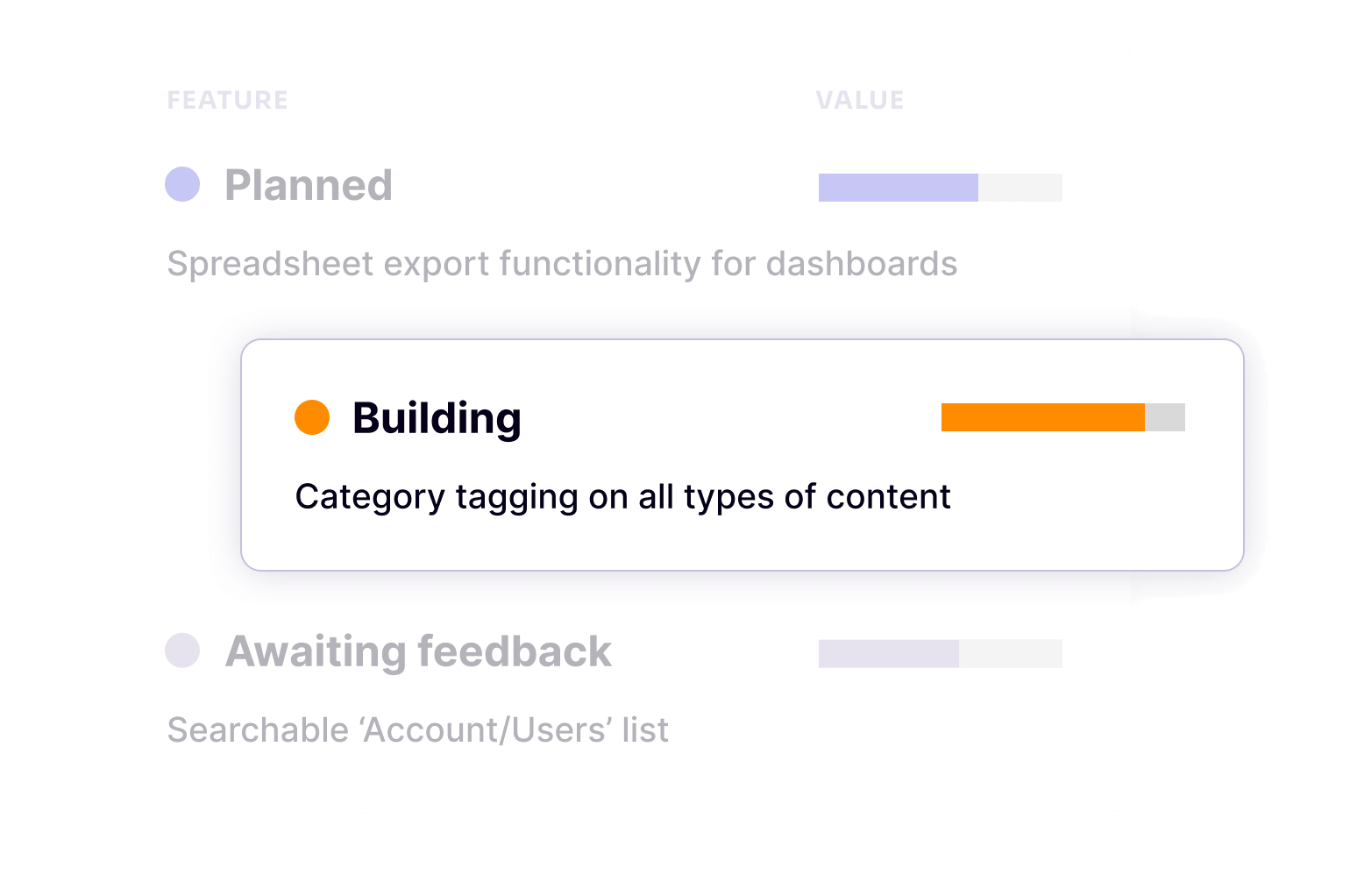 Understand your customers
Capture the voice of your customers and discover what they really want and are willing to pay for.
Make the right investments
Analyze feedback based on segment, spend, and tags to drive high-impact product decisions.
AI-generated qualitative insights
Extract, sort, and synthesize insights from your qualitative customer feedback.
Close the feedback loop
Automatically update customers as requests are reviewed by the product team.
Unify your feedback
Integrate with tools like Jira and Salesforce to create efficient workflows across teams.
I love that members are asked: 'Here are 50 great ideas, which ones mean the most to you?' It communicates the idea that we can't do everything, but they can help us decide what they want most. Elisabeth Hunt, Member Support and Training Director

Pendo Feedback has helped the team remain bought-in, it's helped our customer-facing teams feel confident about being able to talk about our value, and it's been really good as a collaboration tool. Shona Fenner, Product Manager

Pendo Feedback's flexibility allows different teams of product managers with different priorities to explore data most relevant to their own projects, then make or validate decisions quickly. Tom Witczak, Director of Digital Experience
Want to see for yourself?
Schedule a custom demo and have an expert show you how Pendo works.
Book my demo
Not ready to talk to sales? Explore the product on your own with a self-guided tour.
Explore Pendo
Frequently asked questions
Yes, and this is actually a very common use case. You can use Pendo Feedback to allow internal teams to submit requests on behalf of your users. Learn more here.
Yes. We have a lightweight integration between these products today, and are actively working on rebuilding Feedback inside the rest of the Pendo platform. This will make this integration between all three tools even more powerful, and reap even greater benefits for customers who use the full Pendo suite.
Customers want their voice to be heard. Offering an always-on feedback channel allows them to share their thoughts and requests on their own terms, improves the quality and relevancy of the feedback your team receives, and deflects a significant number of support tickets—so your organization can operate more efficiently and confidently. Read more. 
See for yourself
Get going with Pendo and see what we can do for your organization.
Schedule my demo
Solutions for every size
Customized, straightforward plans means you'll find the perfect Pendo for you.
See pricing
Try for free
Install our free version of Pendo with no strings attached.
Get set up today